WHO ARE WE?
We are a family-run company, the current owner PAVEL NEKLAPIL belongs to the second generation of model makers. Nowadays, his two sons joined the company and begun to co-operate in the production process.
The beginnings of our activities date to the year 1992. In the very beginning we concentrated mostly on production of wooden toys, later with the implementation of the CNC machines we left the toy-producing business, and since then we concentrate on production of models for foundries. We are also experienced in model production for art foundries.
We were one of the important suppliers during the reconstruction of the Hluboká nad Vltavou chateau, our models decorate the famous orangery of the chateau. Later, especially thanks to the constant orders of our regular customers, we started to specialize on the production of temper grills and thin-wall moulds made of special steel. The production of moulds for ceramic fittings plays an important role in our production.
One of our biggest orders were models for the production of moulds of giant wind power plants that we supplied to Sweden and Denmark. You can see pictures of those and also of many other products of ours in the Gallery.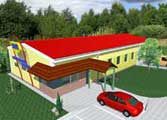 On the basis of our good commercial results, we decided to move our headquarters and production to a bigger and more suitable place. That is why we build a new production hall in Ostrovačice, which is a small town in the suburb of Brno. We are now in the final part of the building process. You will be informed as soon as the production starts in the new location. You can find both the address of our current and near-future locations in the
Contacts
that also provide you with a detailed description of how to get to us and a map.